Building a fence is a great DIY project for any homeowner looking to spruce up their property. Not only does it add aesthetic appeal, but it provides privacy and security and can even increase your home's value.
However, the thought of building a fence may seem difficult and overwhelming to some. Luckily, you don't have to go at it alone. That's what we're here to help with! This comprehensive guide will take you step-by-step through how to build a fence. Whether you're a seasoned DIY'er or new to fence projects, we've got everything you need to complete your DIY project successfully. So, grab some tools, and let's get to work on building the ultimate fence for your home.
How to Prepare to Build a Fence
While building a fence may seem straightforward, it can quickly become complicated if you don't plan and prepare properly. Below are some essential steps for preparing to build a fence that will help you avoid common mistakes and ensure a successful (and simpler) project.
Step 1: Check Local Regulations
Before you even begin to plan your fence, it's important to check your local regulations. Your city or county may have specific rules about the height, location, and type of fence you can build. There may also be zoning laws or building codes to consider. Failure to comply with these regulations could result in fines or even the removal of your fence. So, it pays to check these rules and regulations beforehand, so you don't waste precious time or money.
Step 2: Determine Your Property Boundaries
Another one of the most important things to do before building a fence is to determine your property boundaries. You don't want to accidentally build your fence on your neighbor's property or have your neighbor accidentally build on yours. If you're unsure where your property lines are, you can hire a surveyor to help locate them.
Step 3: Compare Fence Styles
Once you've determined the regulations and property boundaries, it's time to decide on the style of fence you want to build. Do you want a classic picket fence, a modern vinyl fence, a chain link fence, or something in between? Consider the purpose of your fence and the overall aesthetic of your property before making your decision.
Step 4: Consider Fence Materials
Before you head to the home improvement store, calculate the materials you will need based on the length and height of your fence. This will help you to avoid overbuying or underbuying materials. You will likely need:
Fence posts
Fence rails
Pickets or panels
Hardware
Pre-made close board or lap fence panels are usually cheaper than building your own DIY fence from scratch. However, they don't typically allow for as much customization as buying the materials individually and creating a custom fence.
Step 5: Prepare Your Tools
Finally, ensure you have all the necessary tools to complete your project. This may include a post-hole digger, a level, a circular saw, a drill, and more. Having the right tools on hand will make the building process much smoother and, in most cases, much faster.
What Materials Do You Need for a DIY Fence?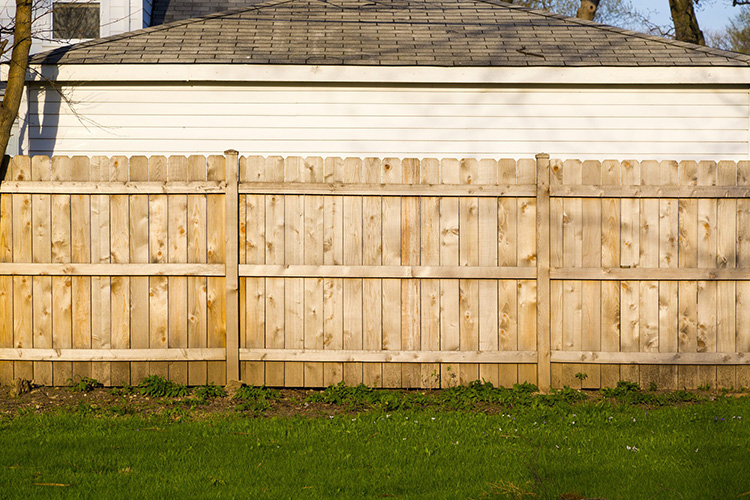 When building a fence, using high-quality materials is critical. With the right materials, you can build a fence that lasts for a long time and enhances the beauty of your property. Here are a few of the most important materials we suggest buying depending on the type of fence you're building.
Fence Posts
Building a treated wood fence? You'll need to choose the right wooden fence posts. When choosing the perfect fence post, you must consider its durability, thickness, and resistance to rot. Cedar is a mighty wood that ages gracefully, resists rot, and is naturally insect-repellent. Also, it's lightweight and easy to handle, which makes it perfect for DIY fence building.
Fence Rails
Fence rails run between fence posts and provide a solid structure to attach the rest of the fence panels and pickets. The quality of the fence rails determines the overall stability of the fence. You can use treated lumber, which is resistant to rot and pests, or redwood, which looks good and holds up well over time. Regardless of the fencing rails you choose, always use straight and not twisted or warped rails.
Fence Pickets
Fence pickets are the vertical boards that attach to the top rails. Pickets come in various styles, from dog-eared and flat tops to gothic and French gothic. Cedar and redwood are great choices since they have natural oils that repel insects and withstand rot and decay. Composite pickets offer the look of wood with the added durability of plastic to protect against weathering, fading, and cracking.
Gate Materials
Fencing gates are crucial to any fence, providing access to your property. Gate materials vary depending on the fence's style, required durability, and security. Wooden gates can complement a wooden fence but may lack durability and require maintenance. Metal or vinyl gates are more secure, low-maintenance, and can last longer, but they may not match the look of a wooden fence.
Fence Hardware
You need fasteners such as nails, screws, and bolts to assemble your fence. Choosing the right type of hardware is critical since it can affect the overall integrity of your fence. Corroded metal can lead to fence failure, so using hot-dipped galvanized, stainless steel, or coated fasteners can extend the life of your fence. Other hardware, such as hinges, latches, and handles, add security and ease of access.
Best Materials for a DIY Fence
With the right tools, you're ready to start your fence project. But wait! Not all materials are created equal, and choosing the right ones for your project can mean the difference between a fence that lasts for years and one that falls apart after just one season.
Wood
Wood is by far the most popular choice for fences, and for good reason. It's affordable, easy to work with, and can be stained or painted to match any home style. Wood fences can also be customized with different designs and patterns. However, not all wood is made to withstand the same wear, tear, and weather conditions. Cedar and redwood are the most durable options due to their natural oils that repel insects and moisture. Pine is a more affordable option but must be treated to resist rot and insects. When choosing wood, look for grade-stamped lumber that meets ASTM standards.
Vinyl
Vinyl fencing is growing in popularity for its durability and low maintenance. It's made from a strong plastic material that doesn't crack, warp, or fade in the sun. Vinyl fences are also available in various colors and styles, making it easy to find one that complements your home. Because it's so easy to clean, it's perfect for pet owners and a good choice for those living in areas with harsh weather conditions. However, vinyl fences can be more expensive than wood options. If you take care of it properly, you could save money long-term by opting for vinyl vs. wood, though, because it doesn't crack, fade, or damage as easily.
Chain Link
Chain link fences are known for their affordability and durability. They're ideal for large areas and can be used for residential and commercial properties. They're also low-maintenance and can be left alone to weather naturally without cleaning or staining. However, chain link fences aren't considered the most attractive option and don't offer as much privacy as other fencing options. However, they're affordable, durable, and best suited for properties where security is the main concern.
Aluminum
Aluminum fences are a popular alternative to wrought iron because they're less expensive and require less maintenance. They're also lightweight and easy to install. With the ability to withstand severe weather and even strong pets, they're a great option for pet owners or homeowners looking for a strong fencing option.
Final Thoughts
Choosing the best materials for your fence is essential to ensure it withstands the elements and lasts for years. Wood is a great option for those on a budget but requires more maintenance. Vinyl is low maintenance but can be pricey. Chain link is the most affordable option but not the most attractive. Aluminum offers a good balance between cost and durability. Whatever option you choose, make sure it's high-quality, meets ASTM standards, and complements the style of your home.
Tips for Staying on Track
Handling and executing the plan well is the key to a successful project. Proper planning includes:
Gathering the necessary materials and tools
Measuring and marking out the fence
Determining how much time you will need to allot to the project
With a plan in place, it's time to look for help, as building a fence is much easier and faster when you have someone to help you. Even if you enlist the help of a friend or two, they can assist in holding the panels as you secure them in place, take measurements, and oversee overall quality control.
If you're not getting anywhere with friends or family, hire a local fencing company like Chesapeake Fence & Awning! Regardless of who's helping you, it's important not to rush the project, as rushing can lead to structural issues or damage your materials. Set achievable goals that will still produce quality work that meets the standards intended. And lastly, be realistic! Time estimation should align with your skill level and experience. Knowing your limits and creating a timeline that will allow you to take necessary breaks can help you stick to it and complete the project on time.
When it comes down to it, building a fence requires proper planning, preparation, and collaboration with someone. However, unforeseen circumstances can't be avoided. Give yourself ample time and plan well for a successful fence project.
When Is the Best Time to Build a Fence?
The best time to build a fence depends on many factors, including weather, local regulations, and your DIY skills. However, with proper planning and preparation, you can make your fencing project a success at any time of the year. Consider all the factors listed below to ensure you give your fence the best chance at providing years of quality service and adding value to your property.
Seasonal Considerations
Generally, at least in Virginia, it's best to build a fence in the spring or fall. In the spring, before the hot summer weather sets in, you can avoid working in the heat, as well as the risk of damaging any vegetation around the work area. On the other hand, fall is perfect because it tends to be cooler, and the soil is easier to work with. It's also when most homeowners start taking care of their lawns, making it an ideal time to build a fence.
However, building a fence in the winter or summer can also be advantageous, depending on your location and climate. Building a fence in the winter can help you avoid the spring rush and have your fence installation done before you need it. Plus, in Chesapeake, VA, the ground typically doesn't freeze solid, as winters here aren't as harsh, which makes winter construction viable. Depending on the land your home is built on, building during the summer can be ideal. You can use various materials, and the ground is easier to dig since it's dry. However, constructing a fence during the hottest months can be challenging due to the heat.
Local Regulations
As mentioned at the beginning, before embarking on your fencing project, it's essential to research and comply with local regulations, laws, or codes. Some neighborhoods, cities, and towns have specific requirements about fence types, materials, height, and distance from the property line. If you need to obtain a permit to build your fence, allow time for the approval process. After you get your permit, it's best to start immediately, as most regulations have strict deadlines.
DIY vs. Professional Installation
Building a fence is a labor-intensive task that requires the right tools, materials, and skills, so deciding whether to DIY or hire a professional installer requires careful consideration. If you have experience in construction and fence building and have the necessary tools, you can save money by doing it yourself. However, consider professional fencing installation if you're unsure or lack time. Professionals can help you in many ways, such as purchasing the right materials, designing the fence layout, and following local regulations. Additionally, hiring a professional ensures high quality and can save you money long-term due to unexpected repair costs.
DIY Fence Building Tips
With all the tips, recommendations, and materials above in mind, it's time to get to work! While you're likely ready to tackle the project alone, here are a few more tips to help you along the way.
Check the Frost Line
Before getting started, it's important to determine the frost line in your area. The frost line is the depth to which the ground will freeze in the winter. This is crucial information for building a fence, as the posts need to be set below the frost line to avoid heaving during the colder months. In most areas across Virginia, the frost line is 18 inches deep, but it's always best to consult with a local building code or professional to ensure you're following the right guidelines.
Use Pressure Treated Wood
Struggling to find the perfect type of wood for your fence? We recommend pressure-treated wood, as it's specifically designed to resist rot, insects, and decay. This type of wood is treated with preservatives that make it more durable and long-lasting, making it perfect for a fence that will be exposed to the elements year-round. When selecting your wood, choose a grade suitable for ground contact to ensure maximum protection against rot.
Consider Fencing Panels
While building your fence from scratch may be tempting, using fencing panels can save you time and effort. Fencing panels are pre-assembled, making installation quicker and easier. Because they're made of solid wood, allowing for more privacy than other fences.
Fence panels come in various styles, materials, and sizes, allowing you to choose the perfect fencing panels that match your design preferences and needs. Another advantage of using fencing panels is that they help maintain a uniform look and feel throughout your fence.
Choose the Right Fencing Company
Tired of having to do everything yourself? Choosing the right fencing company for your project can make all the difference.
Look for a company with experience, good reviews, and a warranty on their work. Read through their testimonials and, most importantly, look at photos of their past work. Ensure they offer the type of fence you want and ask about any necessary permits. Don't forget to get multiple quotes to ensure you're getting a fair price.
Resources for Materials and Guidance
Are you thinking, "Where can I find resources for materials and guidance for my DIY fence?" One great place to start is our blog, where we offer various DIY guides for homeowners like yourself. We provide step-by-step tutorials to help you build the fence of your dreams and tips on the best materials to use for your specific needs.
If you prefer more hands-on guidance, speaking with one of our professionals can be incredibly helpful. Our team has a wealth of knowledge and experience building fences, and we're always happy to share our expertise. Additionally, you can check with your local home improvement stores or browse online for materials and tools. Remember, building a fence can be a big project, so it's important to take the time to research and gather the right resources. With the right materials and guidance, however, you'll be well on your way to creating a fence that will enhance the look of your home and provide privacy and security for you and your family.
Work with Chesapeake Fence & Awning Co.
While DIY projects can be fun and fulfilling, fencing can be tricky and time-consuming. That's why we suggest working with Chesapeake Fence & Awning Co. Our experienced professionals offer quality fence and railing products with a minimum one-year warranty on labor and materials. Contact us for help with your next fencing project and enjoy a beautiful, worry-free outcome.
Ready to build a fence together? Contact us to receive a free estimate or details on any necessary materials for your projects! Visit our showroom, call us at (757) 545-8486, or fill out this form for more information.