Almost 48 million people in America have a pet dog. Despite all the love you give them, many of them seemed determined to escape the life of a domestic pet to roam the world as a wild dog. In reality, many of them would miss their creature comforts, so you need a fence that will keep them safe and secure. The fence you choose should not only look good in your garden but also keep any wandering or curious pets safe. Dog owners in particular need to be careful, as dogs are clever creatures that enjoy digging under fences to find their freedom. Find out more about your best fence options below.
What Are the Best Fences if You Have a Pet?
The fencing material you choose to surround your garden with should be resistant to your pup's attempts to get out. However, the options for pet fencing are wide and varied, so you must consider what fence will work best for your needs. For example, if your dog has damaged any previous fencing you've owned, you'll want to choose a strong material like aluminum for your fence. Or, if your dog likes to dig, a deeply planted wooden fence may be your best option.
You'll also want to consider the climate where you live before buying a fence. If you have a lot of wet weather, you will want to avoid materials that rust or soak up water. If it's windy where you are, you'll want a sturdy fence that holds its ground even on the most blustery day.
What Should you Consider for your Fence if you Have a Fence?
The size of your dog should be your first consideration if you have a fence. A large dog won't be contained by the same fence material that easily holds a small dog. A fence should make your life easier, which is why you'll want to consider maintenance and upkeep. An elderly person living alone with a pet may not want a fence that requires frequent sanding or re-painting.
Similarly, those with young children should purchase a fence that will be easy to wipe down and keep clean. This is also important if you have a dog that simply can't stay out of the mud!
You'll want to consider the height of your fence if you have a dog. You may need planning permission for your fence, as it can only be up to 6ft tall in Chesapeake. You may be allowed to build your fence higher than this if you request special permission, however, always ensure you go through the proper planning authorities to do so.
What Materials Are the Best for a Fence if You Have a Pet?
Finding the right fencing material is important for your home, garden, and, most importantly, your pet. You need a secure option that won't allow your animal to bite through or jump over.
Certain materials work better than others because they don't rot or rust and because it's tougher for your dog to escape from them. Keep in mind the above considerations when choosing a fence that's right for your garden, as this will help you pick the most secure one.
Picket Fence
A picket fence is a home classic that conjures up images of ideal family life. Conventionally made from wood, this kind of fence is pointed at the top and adds a wonderful touch of symmetry to any garden.
A picket fence is a great choice for dog owners because your pooch will find it difficult to jump over them. The panels are also usually paired closely together, making it harder for any size dog to squeeze through. A picket fence is also one of the most aesthetically pleasing. It's an easy fence material to paint, so you can effortlessly match it to the color of your house.
Wood Fencing
A wooden fence offers numerous advantages for pet owners and it is one of the most environmentally-friendly fence options. Always make sure you buy a wooden fence from a reputable vendor to ensure you are getting the highest quality wood. Another advantage of wooden fencing is that it's generally aesthetically pleasing. Not least of all because you can easily paint it whatever color you desire, it is easy to make your wooden fence your own. Just make sure to use non-toxic paint for any curious pooches who might give it a lick! Wooden fencing is a great choice for dogs that like to dig. You can plant it deeply into the ground so your dog will have a hard time burrowing under it.
However, keep in mind that wooden fencing is prone to breakages, especially from bad weather. When you're considering the types of fencing that will work best for your garden, remember that wooden fences might need to be repaired often.
Aluminum fencing
Aluminum fencing is another common material used for pet protection. It holds up well against any kind of weather and it also shouldn't corrode. Aluminum fencing is also fairly low maintenance. It doesn't require much cleaning throughout the year and you won't need to treat it for rust. And, of course, it's strong enough to withstand blows from even the most boisterous dog. An aluminum fence won't bend or dent no matter how determined your long-tailed escapee may be.
Like chain link, aluminum fencing isn't the most appealing in terms of how it looks. However, you can spruce it up in a variety of ways, such as by adding plants and flowers to the base. Finding metal-friendly paint and using it on your aluminum fence is another way to help make it look its best.
How Deep or Tall Should Your Fence Be if You Have a Pet?
This depends on the type of dog you own. Small dog fencing simply needs to be tall enough to stop your dog from jumping over it. The same applies to large breeds of dogs. For example, if you have a Labrador, your fence should ideally be seven ft regardless of the material you use. Alternatively, a chihuahua will only require a 3.5 ft fence. The depth of your fence should be determined by how deep your dog likes to dig into the ground. As a general rule of thumb, you'll want to have your fence buried at least six inches. However, if you have a dog that always seems like they're trying to dig to Australia, making your fence a little deeper won't hurt.
What Are the Most Durable Materials for Your Fence if You Have a Pet?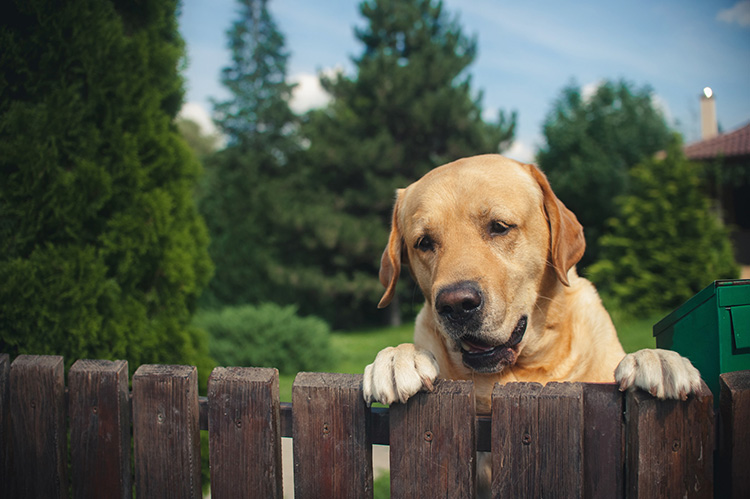 For those with pets on the larger side or even dogs with (sometimes frustratingly) big brains, you need a durable fence. Your fence should hold up against stormy and windy weather as well as your pet's attempts at freedom. Durability depends on several factors. If you choose a metal fence, ensure it has a galvanized finish, as this adds an extra protective barrier to your fence.
You can also increase fence durability by making sure the frame is very strong. This helps keep your fence upright and adds additional support.
Vinyl Fencing
Vinyl fencing is an excellent choice for those who wish to keep their pets safe. It is a very strong material that doesn't warp or rot. It also offers additional strength against a pet's sharp claws, so you don't have to worry about them escaping from it. Vinyl fencing is also particularly easy to clean. For those pets with an underground escape route in mind, stains from digging won't cause too much trouble as they can easily be wiped away. Vinyl fencing is also considered one of the most attractive styles of fencing. Vinyl fencing has a similar look to wood fencing and can be painted and finished to your tastes.
Metal Fence
The strength of a metal fence is truly what makes it superior to other options. Even the biggest, strongest dog breeds will have a tough time tackling a metal fence. A metal fence can look surprisingly pleasant. They come in a variety of styles and fashions, such as black railing, wrought iron, and even gold. All of this can help add a touch of sophistication to your garden without ever compromising the safety of your dog. One thing to keep in mind when it comes to metal fencing is rust. Rust will damage and weaken your fence and it often doesn't take too much moisture for rust to form. Use a rust-resistant coating on any kind of metal fence and ensure that you inspect it for rust spots often.
Chain Link Fencing
Chain link or wire fencing offers an inexpensive solution to pet escape issues. This fencing works especially well if you wish to create a dog run. It's easy to maneuver into the length and shape you want your enclosure to be. Another advantage offered by chain link fences is that they allow the height of your fence to be increased fairly cheaply. If your dog is a jumper or a larger breed, a high chain link fence can stop any accidental 'prison breaks.' However, if you've got a more vocal pooch, chain-link fencing may not be the right option for you. It's completely see-through, so your dog will be able to bark at anything it sees including cars, other animals, and people.
While chain link fences aren't the most aesthetically pleasing choice, they can fit in with any style of home and garden. For example, choosing the right metal so that the shade suits your house can make this material much more stylish and elegant. Get the advice of an expert if you're interested in a chain link fence but aren't too sure how it will match your home.
Are Pet-Friendly Fences More Expensive?
Thankfully no! There are various fence options for pet owners that won't break the bank and that your pet won't break out from.
The protection fences offer are second to none for your wandering pet. They will enclose your outside space so that your dog has a place to run around and play without subjecting them to dangers like busy roads or more aggressive animals.
How much you pay for your fence will depend on the size of your yard, the material you use, and the company you employ to set it up for you. At Chesapeake Fence & Awning Co, you can find a range of fences to suit your needs, and have it installed properly by the experts.
How Can Dogs Damage Fences?
Depending on the size, breed, and temperament of your dog, your fence and your dog could come to blows in a variety of different ways. The most common ways dogs can damage a fence include:
Climbing
A dog's curiosity often gets the better of them and trying to see who is walking by your fence every day could result in damage to it. Your dog's constant surveillance attempts could result in scratches and chipping on your fence. Along with climbing, a jumping pet could accidentally damage your fence. Excitable dogs eager to see over the top can bump into your fence and cause individual pickets or slats to come away, leading to a wide gap through which they could escape. That's why a metal fence is the best option for those with curious dogs. It will stand up to scratching from sharp claws and keep your dog contained in your yard.
Clawing
Many pets claw at objects out of fear or frustration. If you have a closed fence that your dog can't see through, they may paw at it whenever they hear a noise from the other side.
A wire fence may be a good idea for pet owners who wish to avoid this type of clawing. It will keep your pet safe in your garden but allow them to see all the comings and goings of the outside world so they don't feel threatened or anxious. If you choose a wire fence, ensure the material you use is strong and able to withstand harsh weather.
Pushing and Leaning
If you keep your pet in your fenced-off yard while you're away at work, they may lean or push against it while they wait for your return. This becomes problematic for bigger dogs, whose weight can cause your fence to distort or change shape. Enrichment, which is just a fancy word for keeping your pet busy, is the key to stopping this behavior. Make sure you provide your pet with plenty of toys and enough space to run around if you're keeping them outside. This will keep them entertained until you return to give them all the cuddles.
Snapping
A dog that likes to get its teeth into things could cause problems for your fences. Fear, boredom, and frustration can all cause your pet to start biting into your fence, which can result in chips and chunks falling away. This ultimately makes it less secure. While a dog is unlikely to completely bite through a fence, you still want to avoid these kinds of damages where you can. Enhanced training exercises could help to keep your dog calm when someone walks past your fence, making them (and you) happier.
Doing Their Business
If you have a wooden fence and a dog that likes to mark its territory along it, you could be in for some trouble. Wood soaks up liquid and moisture pretty easily, and this can lead to swelling, chipping, and cracking in your fence. Male dogs mark their territory more commonly than female dogs. Older dogs are also more likely to need to go to the bathroom more frequently than younger dogs. If you have these kinds of pets, make sure to keep an eye on them when they're
What Should I Do if My Fence Breaks?
Even with the best care in the world accidents can still happen and your fence might be damaged. From bad weather to dogs wishing to flee your garden, your fence could chip, snap, and even break altogether. Thankfully, there are a few common solutions for broken fences depending on the damage.
Contact an Expert
When you work with an expert on your outdoor fence, you will get the highest quality service. An expert will easily assess your fence to see how extensive the damage is and how long it will take to repair. They will also know exactly what tools to use for repair jobs, so your fence will be back to normal much faster. An expert can provide you with tips and tricks to prevent the same damage in the future. At Chesapeake Fence, outdoor-fence experts will tell you the best ways to care for your fence and keep it in top condition. If you have any special requests, simply let the team know and they'll be happy to oblige.
Repair with the Right Tools
For minor repairs, most fence owners will simply opt for a DIY job. However, if you choose this option, you must use the right tools. The wrong equipment could inadvertently cause further damage to your fence and leave you needing more expensive repairs.
The type of tools you need will depend on the damage. Common types of fence repair tools include:
Pliers
Hammer
Drill
Drill bits
Shovel
Safety goggles
If in doubt about your fence repair needs, always contact an expert before beginning any work on your own.
Prepare for and Avoid Further Damage
The best way to prevent damage to your fence is to prepare properly for it. Keeping your fence free from debris is one way to stop rot and rust in its tracks. This will make your fence last longer and keep it strong. Avoiding damage by pets is another way to prevent damage to your fence. Training your dog to treat your fence with a little TLC will stop it from bending, breaking, or becoming worn down.
Finally, frequently investigating your fence for pests is important to stop damage. Pests like termites or insects such as ants can cause some pretty heavy problems for your fence as they destroy its internal structure. This makes it much weaker and prone to rotting.
Best Ways To Dog-Proof Your Fence
Dog-proofing your fence is the best way to ensure it keeps your pooch secure. Regardless of the kind of fence you have, follow these dog-proofing tips and you shouldn't have any jailbreaks any time soon!
The Fence's Base Should be Secured
You must make the bottom of your fence deeper, even if your dog isn't a digger. Add more staves, an L-shaped extension at your fence's base known as an L-Footer, bushes, plants, and flowers, and gravel. All of these materials will help keep your dog away from your fence.
Build an Extra Fence
By adding an extra fence, you allow yourself an extra layer of security. You can add this extra fencing to the gate alone, or around the entire length of your fence. This means that if your dog escapes one fence, they still have a whole new fence to break through too!
Make Sure the Fence You Choose Adds Security
The best fence options for homes with pets are the ones that keep your pet safe. That's why the fence you choose should be durable, sturdy, and overly-explorative-pet resistant.
Always consider the cost and potential upkeep of your fence material. If you know your fence may need repairs in several years, you can begin budgeting for this as soon as it is set up.
To discuss your pet fencing options, get in contact with us here. Our pet-loving and fence-knowing experts will advise you on the best type of fence for your home or garden.