What Are Fence Panels and Why Are They Important?
In the United States, more than half of houses have a fence in the backyard because of safety concerns. As a homeowner, you want to do everything you can to protect your property and your family. Whether you're worried about your safety or not, installing fence panels is a great idea. Home projects aren't always the easiest, and if you've never owned a home with a fence, then you probably have some questions. The good news is, we have the answers. This guide is going to tell you everything you need to know, from how to pick the right fencing material to DIY fence installation, choosing the right contractor, and more. Continue reading so you can get started!
What Is a Fence Panel and Why Is It Important?
Fence panels have several names. They can be referred to as pickets, slats, or boards. They come in various shapes and materials. The fence panels are the most visible part of the fence and are attached using nails or screws. The panels come in different thicknesses as well, and you can choose which ones you like best. Without the panels, there wouldn't be a fence. It would simply be posts in the ground.
How Do I Plan a Fence Installation?
There are several things you need to do in order to get ready for your fence installation. First, you need to look up local regulations and laws. If you live in a community with an HOA, you'll need to read through the guidelines and get approval if necessary. You will also need to confirm your property lines. If you don't have a survey of your land, you'll need to obtain one. You'll also want to look at your financial situation and set a realistic budget. Going over your budget will only cause stress, so once you decide on a number, stick with it. If you're going to be hiring a contractor, you'll need to do some research to find the best one. If you plan on installing the fence as a DIY project, you'll have to do some measuring.
Before you start measuring, you'll need to decide which fencing material you want to use. After you've done that, you'll measure the entire line of the fence and mark it with either spray paint or chalk. With those measurements, you'll determine how many panels and posts you need. You'll need a variety of tools as well, including a drill, hammer, tape measure, nails, screws, and a level. If you're installing the fence on your own, be patient with yourself. It can take time to learn a new skill and some trial and error. Give yourself a little more time than you think you need.
What Should I Look for When Choosing the Best Fencing Contractor?
When you search for contractors online, a lot of options are going to come up. The challenging part is going to be finding the best one.
Reviews and Recommendations
Online reviews can be a helpful resource. Often-times companies will have testimonials on their website. You may not find a company that has all 5-star reviews, and that's okay. You shouldn't write a company off completely based on a few less-than-ideal comments. However, if most of the reviews are negative, you may not want to hire them. After you've looked through reviews, ask your friends and family for recommendations. If your neighbor recently installed a fence, ask them about the process and if they would recommend the company.
Experience
The first thing you want to ask about is their experience. You'll want to find a company that has done projects similar to yours. If you want a wood-paneled fence, the contractor should be knowledgeable about the installation process. They should be able to advise you on the best materials and on how to care for your fence. You should never feel pressure from a contractor. If someone is pushing you to sign a contract before you're ready or trying to persuade you into a fence you don't want, it's best to continue your search. It's important to know the difference between being pressured and being advised. A professional contractor may make suggestions based on their expert knowledge, but at the end of the day, it's your decision.
Reference Photos
In order to find a contractor that will help you bring your vision to life; you need to look at some of their previous work. Don't be afraid to ask about reference photos.
Choosing a Contractor Part Two
Being thorough is one of the best things you can do when you're trying to find a contractor to hire. It may seem like a lot of factors to consider, but asking questions will make the process go smoother.
Insurance
During any home project, there's always a risk that something could go wrong, and someone could be hurt. While you hope that doesn't happen and everything goes smoothly, you can never be sure. If an installer gets injured while installing your fence panels, you don't want to be responsible. A good, reputable company will have insurance for its employees and will have employee compensation.
Price
Another factor that will contribute to your decision is the cost. Installing a privacy fence is an investment and you should compare prices. Many companies offer a free estimate, but keep in mind it's only an estimate and the price could change. You don't always want to go with the cheapest quote. Quality is worth the extra money.
Warranties
When you're choosing a contractor, you want them to stand behind their work. If something goes wrong due to poor materials or improper installation, you want to be sure you're covered.
It's not a cheap project, and it's a good sign if a company offers warranties. Some materials may have warranties for a year or two, while some may be covered for a lifetime. Once you find out, don't forget to read through it. You wouldn't want to do something that would void the warranty.
What Is the Best Type of Fence to Build by Yourself?
Wood and vinyl fences are two popular options for homeowners; however, they are not the easiest to install if you've never done it before. Wood panels are the most difficult because they don't come pre-made; each one will have to be installed individually. While it may not be as aesthetic, a chain-link fence is going to be the easiest to install by yourself. The material comes in pre-made panels- all you'll have to do is attach them to the posts.
Pros
Installing a fence yourself comes with some advantages. It will likely be more affordable if you do it correctly the first time. You will also be able to take your time and ensure that it looks exactly how you envisioned it.
Cons
In order to ensure you have installed the fence panels correctly, you'll need to take your time. If you have a busy lifestyle, it can take you weeks to get the project done. The quality may not be as good either. You don't want to wonder if the fence is going to hold up through a storm. There will likely be some doubt, even if it looks great, it may not be sturdy.
What Side Should Fence Panels Face?
People often refer to a fence as having a good and a bad side. You can also hear it referred to as the finished side and the unfinished side. Now you're probably wondering which way to set your panels up. It's pretty standard that the "good" side faces out or toward your neighbors. There are a few reasons for this. First, you will be able to see if any posts have damage and if they need to be fixed. You'll have a clear visual of the structure of the fence. If you can't see the post, you may not see the damage until it's too late.
If the finished fence side is facing out, it will be more visually appealing to others, thus increasing curb appeal. It is also safer to have the unfinished portion facing in, toward your property. The "good" side is going to be harder for intruders to climb over.
Fence Etiquette
It's common courtesy to talk to your neighbors before installing fence panels if part of it is going to be shared. While it's likely that your neighbors won't have an issue with you installing a fence, there's always a chance. It's better to sort out any issues prior to installation. If the contractor needs to step on their property to install the panels, you'll need to get permission as well. Talking about property lines before buying is also recommended. If you have your survey, it shouldn't be an issue. However, you don't want to have to pay to have the fence moved or removed because of a dispute with a neighbor. It's better to be safe than sorry.
What Type of Wood Is Best for My Outdoor Fence?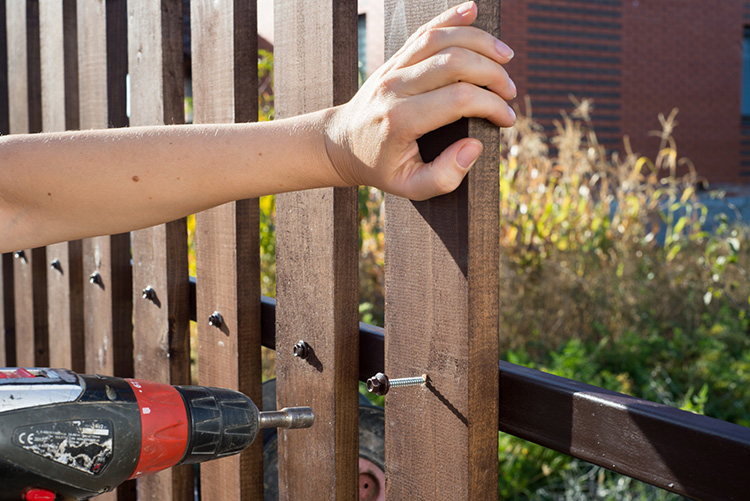 You can use just about any type of wood for your fence panels. However, there are some that are going to be more stable and better than others. The type of wood you use will be based on personal preference and what matches your home best.
Cedar
Cedar is an excellent option as it's resistant to bugs and warping that may be caused by humidity. This wood is also more versatile than others in painting and changing its color.
It's also rot-resistant and will last longer if properly cared for. It's not the most affordable option, but it's also not the most expensive.
Pine
If you're looking for a more affordable option, pine is the way to go. It's a softer wood, making it very easy to work with. One of the downsides of installing pine panels is they will need to be pressure treated. This treatment puts chemicals into the wood to make it more resistant to damage. If you want to paint your fence panels, this wood is a great option because it's smooth. Before staining or painting your wood fence, talk to your contractor. Making those changes could void your warranty if you have one.
Spruce
Spruce is the most affordable wood. However, it does come with some downsides. It's easily affected by moisture and can warp fairly easily. You may also have an issue with termites in the future as well. The wood is very versatile, so if you plan to change the paint color, you may want to consider it.
Redwood
Redwood is a popular option. It's one of the more extensive woods, but it's durable and high-quality. It does require slightly more maintenance than Cedar. It's not as resistant to rot and insect damage, so you'll need to treat it with a transparent stain. The stain will keep the color from changing as the wood ages and will help protect it from harsh elements such as the sun's
UV rays, freezing weather, and dry conditions. Before committing to Redwood, be sure you like the look of it. It will be hard to change the color since its natural hue is so dark.
How Far Should a Fence Post Be From the House?
It's crucial that you don't attach a fence post to your house. It will cause damage and tearing to the siding. Which will be an expensive and necessary repair. As the ground shifts, your home and fence may move in different ways, which isn't an issue unless the post is attached to the house. Another reason to leave a gap between your house and the fence post is safety. Your fence post can be replaced if it gets overtaken by terminate or other insects. However, it will be more difficult to get rid of them when they have infected your house. The fewer holes in your house, the lower the risk of mice and insects getting in. You have a few options. You can place the post a few inches away from the house or you can place it a foot or two away.
When placing the post a foot away, you'll use the panels the fill the gap. If the post is only a few inches away, you can use a few different methods to close it. First, you can use mesh wiring; it won't be noticeable unless you are up close. You can use a potted plant or a decorative lattice. Hiring a professional will eliminate all the stress surrounding where to place the fence post.
Fence Panel Maintenance
In order to prolong the life of your fence and keep it looking nice, you'll need to perform regular maintenance. The fencing material you choose will determine how often and what cleaning methods you need to use.
Vinyl
Cleaning a vinyl fence is fairly easy. You can use a garden hose or a pressure washer to clean the panels every so often. Mold and mildew growth not only looks terrible but can also compromise the structure of your fence. If there's a lot of dirt and grim buildup, you can use soap, bleach, or vinegar to scrub it off. It's also important that you trim or cut any overhanging branches. Heavy tree limbs can cause your panels to sustain damage and possibly even fall under the weight. Refrain from placing gravel and dirt at the base of the fence. These materials can cause the vinyl to tear and become splotchy.
Wood
There are a few extra steps that you need to take when it comes to maintaining your wooden fence panels. You can still use a pressure washer to remove dirt and mold. You'll want to use a soft detergent instead of bleach and vinegar. It will be beneficial to seal the wood every few years. The seal will protect the wood from harsh elements and insects. It will also make it look better. Pay attention to where your sprinklers are as well. You don't want to water your wood fence. It won't last as long, and the constant watering will damage it. You should be able to adjust your sprinklers, so they don't hit the panels.
Aluminum
Aluminum fence panels are very low maintenance. It doesn't require much work. You don't need to treat it or use specific cleaning supplies. Every few months, you'll want to spray off any debris that is stuck to it. You'll want to consider doing a more thorough cleaning after the winter months or after a big snowstorm.
Benefits
If you're still unsure about installing fence panels around your property, knowing the benefits may help you decide. Privacy is one of the main benefits. If you have nosey neighbors, a fence will prevent them from seeing you when you're in your yard or in your windows. It's also a way to set clear boundaries. It's easy for property lines to get blurred when there isn't a fence. Panels will eliminate any confusion about whose land is whose. Another added bonus is security. Fence panels act as a deterrent and will reduce the number of unwanted visitors.
People are less likely to trespass if you have a fence around your property. Even unintentional trespassing can become an issue, but you won't have to deal with it once the fence installation is complete.
If you have children or pets, you won't have to worry about them wandering off when they are in the backyard. You also won't have to worry about unwanted animals on your land. While the benefits above are practical, you can install fencing for decoration or to make your backyard more aesthetic. The last thing you want is your fencing to be an eyesore to you, your neighbors, and the people passing by.
You'll want to take your time choosing a fencing material that will match the rest of your home. In some cases, it can even add value to your home. Many people look for fencing when they are house hunting. A fence can also act as a weed protectant. If your neighbor's garden or lawn gets a disease or has lots of weeds, a fence will help prevent your yard from getting damaged too.
Process Length
How long it takes to have your fence panels installed is dependent on a few different factors. It will take you much longer to install a fence than a professional. The entire process from start to finish will depend on what material you choose and how long it takes for the supplies to be shipped and delivered. Once all the materials are in, how big your yard is, and the weather can contribute to the amount of time it takes. Typically, physical installations should occur over a few consecutive days. However, it's recommended that you talk to your contractor about timing.
Being flexible can help make the process better, as well. There are times when unexpected delays happen and are uncontrollable, so keep that in mind.
Homeowners Guide: Fence Panels
Having fence panels installed doesn't have to be stressful. We understand how important it is to you to have your property looking great. We also know privacy and safety are huge concerns.
Don't wait to get a fence around your yard. Once it's installed, you'll wonder why you waited so long. Our team of professionals is available to help you through the entire process. If you're struggling to pick out fencing material or if you don't know where to put the post, contact us here. Whatever questions you may have, we are here to answer them.