Over half of US homes have a fence around the backyard area for security reasons. On the other hand, only 5% of US homes have fences in the front yard.
If you want a fence for your home, you have a lot of options available. There are different types of commercial fencing and traditional fencing. These come in different materials that have different benefits and downsides. This guide will help you choose the type of fence to fit your property.
Keep reading to find out what types of commercial fencing you should consider.
Types of Commercial Fencing
With so many fencing materials available, this can be an overwhelming decision. You need to look at the types of commercial fencing and what they have to offer. Doing your research will help you to make an educated decision. This is important no matter what property you are working with or what your goals are.
Here are some of the most common examples of commercial fencing.
Chain-Link Fencing
Metal fences are extremely common in the US. This is for a good reason as they are very durable and have a standard appearance. These are great commercial options and usually return on their investment. The types of commercial fencing include chain-link fencing. These used to be considered unsightly since there weren't as many options. But now they have more aesthetic appeal since you can find different varieties. Chain-link fences are made of woven wire. You can now buy them with a metallic coating or a color coating for a different appearance. Chain-link fences do not shield the building from view, so they don't feel overwhelming. They are also ideal for security purposes as they keep trespassers out.
Aluminum Fencing
If you are interested in welded wire fencing, there is another metal option to consider. Companies like Chesapeake Fence & Awning Co also provide aluminum fencing. This is a type of fence that is highly durable and aesthetically pleasing. It is a perfect option for commercial and residential properties. The biggest benefit of aluminum fencing is that it is affordable. You can find a variety of sizes and designs that will last for many years to come. There are coatings and different treatments available to add to this durability. This can help the aluminum to stand against external wear and tear. This includes sun exposure, snow, heat, and other elements.
Vinyl Fencing
If you are interested in installing a fence, you have to choose from a long list of options. One great option that you should consider is vinyl fencing. Vinyl is one of these fencing options that is easily overlooked. But it provides durability and a professional look for any kind of property. Vinyl fencing comes in a variety of styles and is a very durable material. It isn't going to rot like wood or rust like a metal fence. It is also very easy to maintain and keep clean long term. This ensures that you will get the most out of this investment for your property.
Wood Fencing
With so many fence options, it is easy to become overwhelmed. One standard option is wood fences. These are often made with wooden posts and panels depending on the style. These are very standard fences that have a more traditional appearance. Although, you could always paint a wooden fence to match the commercial building. Commercial wooden fences are a durable and sustainable fencing option. Keep in mind that they do not sustain wear and tear, as well as some other options. Because of this, the wooden fence should have some kind of treatment to make it more durable. For most fences, cedar and treated pine are some of the better options. The type of wood that is ideal will depend on the weather in your area.
Barbed Wire Fencing
The types of commercial fencing available often provide security. This is because commercial buildings want to protect against intruders and robbers. One great way to do this is with a barbed wire fence. These can also be adapted so that they serve as an electric fence as well. This is a great option if you need to protect the property and the building. This is most commonly seen in areas where trespassing is a valid concern.
Pros and Cons of Different Fencing Materials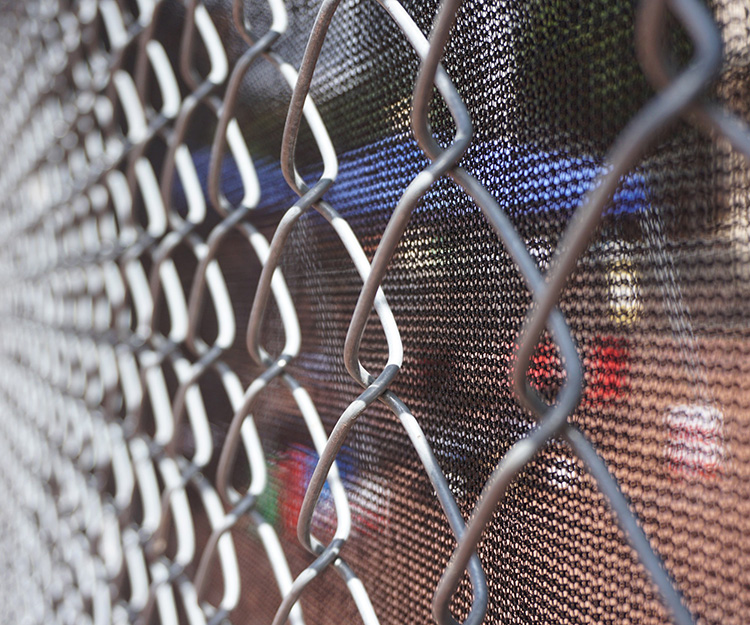 When you are choosing fencing, you need to also consider the material. Not every material is going to be held to the same standard for your property.
Most types of commercial fencing are made of very sturdy materials. But it is still worthwhile doing research to figure out which one is the best for your property.
Wood
A lot of people are drawn to more traditional fence styles. These often take the form of a wooden fence that has a very standard look. For the most part, wood fences are a great option for all properties. They are aesthetically pleasing as well as durable in most climates. But it is important to note that wood is acceptable to wear and tear. It can start to absorb moisture and become moldy or rot over time. Wood fencing can also start to chip away or break apart if it is very old.
Metal
Depending on the property, certain fence materials are more attractive. For instance, metal fencing is becoming increasingly popular. This is an incredibly durable option that provides top-notch security. People are not going to break through a metal fence, and they will have a very hard time climbing it. But metal fencing can start to rust if it isn't cared for. Certain types of metal are more likely to do this and need a protective coating or treatment. With that said, metal fences are easy to care for and keep clean. As long as they are installed correctly, they should last for many years.
Vinyl
Another option you should consider is the more modern option. Vinyl fencing is a great option when it comes to durability and design options. It is very customizable and has a very polished look. This is a more expensive option when it comes to the upfront cost of materials and installation. It may also be vulnerable to drastic changes in the temperature. But for the most part, vinyl fencing will stand the test of time as it doesn't rot or rust.
Traditional Fencing Materials
If your home needs a fence, you may be evaluating your options. A lot of people lean towards traditional fencing when it comes to residential properties. This is because they provide a more traditional look that is welcoming and homey. The most traditional fencing material is going to be wood. Wood has been a material for fences since humans started building fences. It has a lot of benefits and is very aesthetically pleasing. But metal and vinyl are also traditional fencing options. They have been around for a long time as well and offer a variety of traditional styles. The option you choose will come down to the look you want and what looks best with your home. Because of this, there is no one option when it comes to traditional fencing.
Fencing Options for Farms + Acreage
If you live out of town, you especially need a fence. This applies to farms and acreage locations with a lot of property. It is important to fence your property as a safety precaution. You may also have animals that you need to keep within certain bounds.
Wire Fencing
Metal fencing is a very standard option when it comes to farm fencing. This is durable and keeps your property secure with an affordable investment. You can also rig wire fencing to be electrical to keep animals inside. This is ideal for livestock and keeping intruders out of your pastures.
Split Cedar Fencing
A lot of people lean towards rustic fencing options for the country. For a rural property, you could choose a split cedar fence. This has a very rustic look and does not require very much maintenance. It does not provide complete security, but it is perfect for keeping some animals within bounds.
Game Fencing
If you are a farmer or own a lot of animals, you may have issues with wildlife. This is a common issue when it comes to things like foxes or deer. A game of fence is designed specifically to keep wildlife out of your property. This provides top-notch security for animals and humans alike. It has a very standard country look and is a very durable option.
Rail Fencing
Another common option for farm fencing is made of wood. This is called a post and plank or a post and rail fence. These can be entirely made of wood or made with a combination of wood and metal. They are perfect for padlocks and pastures for keeping animals in. These fences also provide security from human intruders as long as the fence is tall enough.
Fencing Options for Your Home
There are plenty of types of commercial fencing to choose from. But there are just as many residential options for your home. Every option has its pros and cons, depending on the situation. There is no single fence that is perfect for every home, which is why you need to do your research.
Chain-Link Fencing
A big concern for homeowners is security when it comes to their property. One great option for security is a chain-link fence to keep intruders out. These provide durability and security without taking away from your home. They are also easy to maintain and do not require much work on your part.
Privacy Fencing
The majority of homeowners enjoy some level of privacy around their property. This is where having a privacy fence comes in handy. These fences are often tall and are made with panels fitted clothes together. This does not leave any cracks or gaps where people can see through. This provides almost complete privacy all around your property. It also provides security since people will have a hard time getting in. Most privacy fences are made of wood or vinyl.
Picket Fencing
If you want a fence for your home, you may want a more traditional look. The most traditional kind of fence for homes is the classic picket fence. A picket fence is made of pointed stakes that are a few inches apart. This does not provide much privacy or security, but it has a very aesthetically pleasing look. Most picket fences are made of wood or vinyl, but some are made of metal as well. These are perfect for keeping small dogs on your property and discouraging intruders.
Lattice Fencing
When it comes to your property, the fencing options are almost endless. Another beautiful option you have is to choose a lattice fence. This is a fence that has a crisscross design of wood, vinyl, or metal. These fences vary in design depending on the look you want. They do not provide much privacy, but they help to keep intruders out and pets in. It is a great way of enhancing your exterior, especially if you plant the vines around the fence.
Does Your Rural Property Need a Fence?
Installing a fence is a large investment, no matter how you look at it. If you live in rural areas, you may be wondering if this is something you need. The reality is that you definitely need a fence if you live out of town. When you live in the country, your property is exposed to all kinds of threats. The most common threats come from wildlife that may try to get your animals. There's also a risk of your animals wandering off and getting lost in the countryside. Human encounters are less common, but they are still a real threat. It is always better to have some security around your property to keep potential intruders out. Having a rural fence is also a great way of defining your property lines. You may find that people unintentionally trespass because they don't know where the lines are.
Do All Residential Properties Need a Fence?
If you are a homeowner, you may not know if a fence is a worthwhile investment. After all, most homeowners have many projects they want to tackle. Like a commercial fence, the reality is that a residential fence is a great option. Here are the benefits for your home when you have a residential fence.
Privacy
Most fences help to obscure your home and backyard from view. This provides you with much-needed privacy from your neighbors and passersby. You don't even need to invest in a privacy fence to enjoy some privacy. Any kind of fence will distort the view people have, giving you a certain level of privacy.
Security
Most people invest in fences to protect their property. You may do this because you have small children or pets that you want to protect. A fence allows you to feel at ease having your family out and about. There's also less risk of someone breaking into your home if they have to get past a fence first. A fence isn't going to stop every intruder, but it is a good deterrent. It can also give you time to figure out that there is an intruder before they get into your home.
Value
It is no secret that home improvements make your home more valuable. Adding a fence is no different, as this is a very desirable upgrade. The majority of home buyers are going to be looking for homes with fences. This is most common in the backyard, but front yard fences are a good option as well. A home with a fence shows the buyer that this isn't an investment they have to make. This adds value to your home if you ever plan on reselling it. This is especially true in residential homes where the neighbors are close by.
Property Lines
Depending on where you live, you probably own a section of property. This can be difficult to determine since you have to look at different maps to locate your property lines. A fence is a great way to mark where your property begins and ends. This is a good reference for yourself as well as for other people. You will have fewer people walking over your property if they see where it starts. This also shows your neighbors where they are property ends so they don't take advantage of the space. This can also be a positive feature for buyers if you are selling your home.
Which Fence is Best for Your Business?
If you own a commercial property, you may be looking at your fence options. It is difficult to pinpoint which option is the best one for businesses. Most business owners agree that a chain-link fence is one of the better options. It is affordable and durable without becoming an eyesore to your property. It keeps intruders out and helps to define where your property ends and begins. But wood and vinyl fencing are both great options as well. They come in a variety of designs and are relatively easy to maintain long-term. They also offer a variety of styles that you do not get with a chain-link fence.
Privacy Fencing Ideas
The majority of homeowners gravitate towards larger fences. This is because they provide the most privacy and security for the home. The best privacy fence ideas include vinyl and wood fences. You can find these fence styles in a design that does not leave any gaps between the panels. This provides complete privacy for your backyard, where your children can play. You could also use a lattice or metal fence and grow climbing vines there. With enough time, the vines will grow over the fence, creating a privacy sheet. This is a long-term solution, but it creates a breathtaking look. Keep in mind that this will only provide a privacy fence during the warmer months of the year. The climbing vines will die during autumn and winter, leaving your backyard exposed.
Fencing Your Garden
No matter where you live, keeping your garden secure is a priority. Even in the middle of town, there are still pests that will try to eat your goods. Small picket fences are a good option for keeping larger pests away. They will deter your dog from chewing on your lettuce or deer from stealing vegetables. But you may need to invest in a game fence for smaller pests. This has a tighter metal design that keeps things like moles and mice out of your garden. If you simply want a decorative fence, there are very small picket fence designs available. These are beautiful and help define where your garden is as opposed to the rest of the landscape. Instead of a fence, you could always create a rock border as well.
Types of Commercial Fencing: Choosing the Right Fence Type
If you own a commercial or residential property, you may be looking into fencing. There are many types of commercial fencing available in a variety of materials and styles. This can make the decision difficult to make, but there are certain things to look for. For instance, you may want a chain-link fence or a vinyl fence, depending on your goals.
Are you interested in buying and installing a fence? Contact us today at Chesapeake Fence & Awning Co to get a free estimate.