Can Installing a Fence Improve Your Home's Value?
White picket fences. Classic privacy fences. Decorative aluminum fences.
Can you imagine a scenario where a homeowner said, "We love the house, but we wish it didn't have a fence"? Probably not!
In fact, a real estate study on millennial first-time home buyers found that 33% made their decision based on whether the house had a fenced-in yard. In our experience, when families do purchase a home with no fence, installing a fence is often one of the first home projects they complete after moving in. So, what makes yard fences so appealing? And can fences improve home value?
The answer is yes. Not only can fences improve curb appeal in the front yard and privacy in the backyard, but high-quality fences can also add significantly to home value.
Failing to install a quality fence or fix up the fence you currently have could turn off potential buyers and force you to leave thousands of dollars on the table when it comes time to sell your home.
Does a fence improve home value?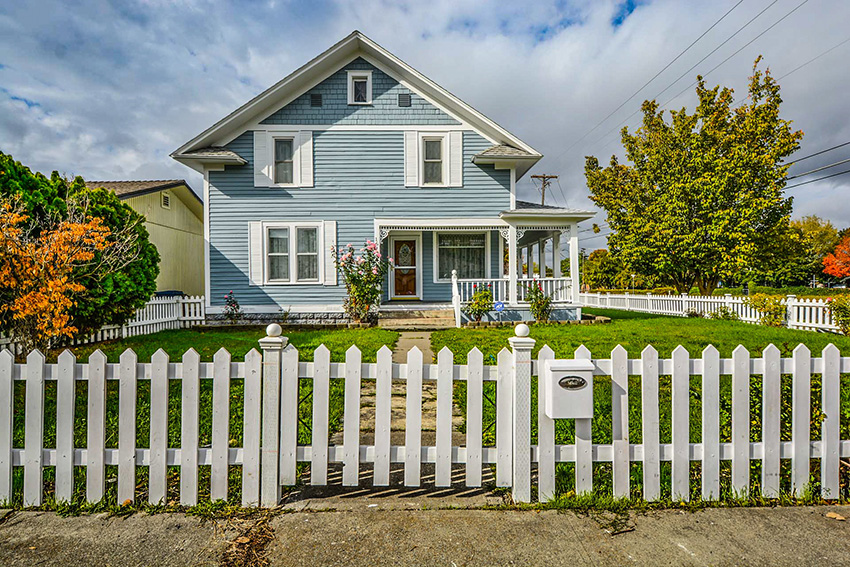 If you're thinking about putting your home on the market, building a fence, or improving your current fence can significantly make your home stand out from the competition. Not only does a high-quality fence improve your home's marketability and help it sell faster, but it will also increase your home value as well so you walk away with more money in your pocket.
We're going to explore all the ways that fencing improves quality of life and resale value for homeowners. We will talk about cost, return on investment, home value, materials used, fence placement, and what to avoid when installing a fence.
Why does building/improving your fence improve the value?
Quality, attractive fencing provides many benefits to homeowners in the Chesapeake area. For families with kids and pets, a fence can keep them safe. For homeowners with nearby neighbors, fencing can provide quality and property line designation.
Let's take a closer look at the many benefits of fencing in your yard and why they improve the value of your home.
Privacy
The backyard is an oasis for many families. This is a space where families relax, cookout, and take a dip in the pool. Having a privacy fence of five to eight feet high greatly enhances the feeling of peace and relaxation by preventing neighbors' prying eyes from peering into your backyard. A privacy fence not only protects your home's oasis from other people but from intrusive sounds. Fences can reduce noise along highways and railways by as much as 60-80%.
Feeling a sense of calm, privacy, and personal space enhances the quality of life for any homeowner. Potential home buyers will appreciate the addition of a privacy fence for these reasons.
Safety & Security
A sturdy fence makes a home more safe and secure. Children and pets can play in the backyard without wandering off into the neighborhood or the street. A fence also keeps intruders out. With a quality fence, you can prevent wild animals from getting onto your property.
In addition, an unfenced yard in a neighborhood with primarily fenced yards could draw the attention of burglars and intruders as an easier target. This is one way you do not want to stand out in your neighborhood.
Designate Boundaries
We've all heard the old adage, "Fences make good neighbors."
Installing a fence can help avoid disputes over property lines and boundaries. It can also block out unwanted sights on neighboring properties that would otherwise be a nuisance. We recommend you be sure to research your property boundaries first. Fences can help designate boundaries on your own property as well. Some homeowners like to fence a portion of their yard for pets or a secluded nook. Fencing can also enclose a swimming pool for safety to keep small children away from the water.
Enhance Curb Appeal 
An attractive fence that matches your home's style and neighborhood can significantly enhance your home's curb appeal. Wood, vinyl, brick, and stone fencing can give your house lots of visual interest. Decorative fencing around the front yard like a picket fence or elaborate wrought iron can add character and charm to your home. Fencing can provide a lovely backdrop or border to landscaping features like flowerbeds and shrubbery.
Future Value
Finally, fences add tremendous value to your home. If you are happy with your home's fence, you can bet future homeowners will love it too. As you choose your home's new fence, it's important to consider your unique needs as well as your home's location. Do you live near woods where wild animals could be an issue? Are you in close proximity to neighbors? What is the style of your home and the surrounding homes? There are so many reasons why fencing can add safety, privacy, value, beauty, and character to your home.
How much does the value of the home usually increase with a fence?
We've touched on all the reasons why adding or improving a fence can improve the value of your home. Now let's get into some of the hard and fast numbers to consider as you plan for your home's fencing. Here are some numbers to consider when planning to invest in home fencing.
Return On Investment
If done correctly, the ROI for a new fence can be 50% or even as high as 70%. This is considered a relatively high ROI as far as any home project is concerned. The materials you choose for your fence can substantially affect your ROI. Iron, polyvinyl, and wood are good choices when it comes to hitting that target of 50% or higher ROI. We'll talk more about how to maximize your ROI in the next section.
Please note, with any home improvement project, it's important to realize that your return on investment is rarely a dollar-for-dollar amount. This means that your home will be worth more than it would have been without a fence, but you will not be able to recoup the entire amount you spent on the fence. Your return is a percentage of the total investment, so try to make improvements that you can enjoy for a while before you sell.
Backyard Beautification
A stylish fence is the backdrop to any well-designed backyard. If your fence is part of a plan to improve the overall beauty of your backyard, expect to add even more value. An aesthetically pleasing backyard can increase a property's value by approximately 10-20%.  It can define the shape of the space, define the purposes of the space, and provide borders to your landscape design.
Cost of Building a Fence
While there's no doubt adding a fence increases home value, determining whether or not to invest may come down to price. Building a fence is a major project. Factors that play into the cost of your fencing project include:
Length of the fence (measured in linear feet)
Height of the fence
Materials used
On average, fences cost $25-$100 per linear foot. The average amount spent on a new fence is $ 8,700.
What's the best type of fence to buy if I want to maximize my home value?
In order to make the most of your new fence, there are several factors to consider. The style of fence, materials used, maintenance and appearance, and cost of the initial investment all play a part in increasing — or decreasing — your home's value. Here are four tips to maximize your home's value when it comes to fencing.
Choose the Style of Fence Wisely
Choosing an aesthetically pleasing fence will depend largely on the architectural style of your home and the surrounding homes. Backyard fences like wooden privacy fences or white vinyl fences work great for many homes, namely Ranch, Bungalow, Craftsman, Contemporary, and Modern Farmhouse. Picket fences are lovely on quaint homes like the Cape-Cod, Cottages, Tudor, and Bungalow. Some historic homes like Colonial Revival, Neo-Classical, and Victorian can be well complemented by ornate wrought iron or metal fencing, while Mediterranean and Spanish-style homes can look fabulous with brick or stone fencing.
Furthermore, neighborhood trends or HOA guidelines may dictate the style of fence you need to install. Home buyers gravitate toward homes that look like they fit in in the neighborhood. If you want to maximize your home's value, it's of the utmost importance that you adhere to these guidelines. This is a big decision, so we suggest consulting with a professional to help you make your plans.
Material Matters
The materials used to build the fence can have a big impact on resale value. With fencing, you get what you pay for so consider quality, durable materials with easy maintenance.
Usually, any fence is better than no fence, but the three fence types with the highest ROI are:
Let's discuss these three fence materials in depth, then look at some other popular fencing materials.
Wood
Wood fences are classic, timeless, and look good with many types of homes. Some homeowners are even doing wood fences with horizontal boards instead of vertical for a contemporary look. Wood is great for privacy and security. In addition, these fences are moderately priced.
Vinyl
Vinyl fences are popular with many homeowners. Vinyl is durable, long-lasting. Vinyl fencing comes in a variety of styles and colors. You can opt for privacy fence panels in the backyard and/or a vinyl picket fence in the front yard. The downside to vinyl is that it is prone to fading, difficult to replace, and one of the more expensive options.
Aluminum
Aluminum is a popular fence material due to its durability and timeless look. Aluminum is one of the most recycled building materials in the world, making it an eco-friendly and cost-effective choice when it comes to ornamental iron fencing and gates.
and aluminum fences look similar, but wrought iron is more ornate and expensive. Aluminum fences are made from steel that has been crafted specifically for outdoor use. It's similar in appearance to wrought iron but typically made in more simple designs. They are most often found around pools or along driveways.
Chain Link
Chain link fences are durable, budget-friendly, and low-maintenance, but they do not afford as much privacy or security as other fence types. Additionally, chain link is not as pleasing to the eye or inviting as other fences, but it can be improved with vines or paint. Chain link and other wire fencing can be reinforced with barbed wire or razor wire, making them a more popular fence on farm and ranch land.
Bamboo
Bamboo fences are cost-effective and lend a tropical flair. They can be a stylish addition to homes in tropical climates or around swimming pools. They provide privacy and security as well.
Brick
Brick fences provide the ultimate in strength, durability, and privacy. These fences are truly an investment because they are expensive but may be a more cost-effective option in the long run thanks to little maintenance and a long life span.
Keep Your Fence Looking Nice
A dilapidated, falling down fence is a red flag for home buyers and could be worse than not having a fence at all. Ongoing maintenance is a cost you must factor in when preparing to install a new fence. Before you invest in a new fence, research the kind of maintenance that will be required. Can you spare the time and money it will take to keep your fence in tip-top shape?
If you don't want to deal with fence maintenance, consider opting for a vinyl fence instead of wood. If your current fence needs a little TLC, we recommend making repairs before you put your house on the market.
Don't Overspend 
A new fence is an investment and savvy investors get the most bang for their buck. Don't install an expensive wrought iron fence if the average home price in your neighborhood can't support a decent return on investment when you sell. Research pricing and look around in your neighborhood. Try to choose a fence type that matches your neighbors at a price point that seems suitable to the price of the home. Wood fences are moderately priced and popular in just about all types of neighborhoods. Vinyl fences are similarly popular but are more expensive than wood. Conversely, installing a vinyl fence may cost more at the outset but save you money over time if you plan to live in your home for longer than 10-15 years.
While a chain link fence is a money-saver, it could bring down your home's curb appeal if it's very visible or if none of your neighbors have chain link fences. Another factor to consider is the warranty offered by your contractor. Going with a contractor that offers a warranty could save you hundreds. Are fences ever considered a negative addition to a home? Fences are generally a good addition to any home, but there are some things to avoid when it comes to fencing. Improper installation, unattractive fences, or poorly maintained fences can hurt a home's value and make it harder to sell.
Here are some of the "don'ts" for fence installation.
Poor Fence Positioning
A fence can do much to enhance your home's visual appearance, but a poorly positioned fence can actually reduce your home's value. For example, a privacy fence in the back will add value to your home, but a privacy fence in the front will decrease the home's value. Furthermore, if your fence obstructs utility easements, electrical lines, or water connections; crosses property lines; or violates city or HOA codes, then the once beautiful fence can become an expensive nightmare. If any of these violations come up on your home's title work when you are selling, it could halt the sale of your home until you remedy the violations — and this can be very costly!
We recommend you talk to your neighbors and your HOA, and work with a professional before you begin your project. All of these things will help you determine the proper placement for your new fence.
Unnecessary Fences
Fences make sense in neighborhoods and subdivisions where neighbors live in close proximity. A house by itself out in the country may not have as much need for a yard fence.
The fenced-off section may even feel unnecessary or out of place. While a fence in this situation may not hurt the resale value, it probably won't generate the same return.
A Neglected Fence
A rotted, chipped, or falling down fence can be an eyesore. Potential home buyers may see an expensive project and walk away. They may even wonder if the seller has neglected other home maintenance as well. Getting the most value from your home sale may mean fixing up that overlooked fence.
A Fence Not Suited to Climate or Region
If you live in the Pacific Northwest, you probably have a cedar fence because the wet climate isn't conducive to other wood types. Aluminum fences may not be able to withstand climates with strong winds. Some types of vinyl become brittle in extremely cold climates. Fortunately, our climate in Chesapeake is generally mild enough for any type of fence material to withstand. If you live somewhere with an extreme climate, do your research so you don't lose money by installing an impractical fence.
Don't DIY
Unless you have experience with DIY fence installation, you could lose lots of time and money trying to install a fence yourself. If fences are not installed properly, certain weather conditions and soil types can actually force a fence up out of the ground. When it comes time to resell, a poorly installed fence could be flagged on a home inspection. Save yourself the hassle and hire a professional to install your fence correctly the first time.
How often should a fence be improved to maximize property value?
Keeping your fence in pristine condition is key to maximizing your property value. The type of fence you have will determine the type of maintenance you need to do and how often your fence will need to be replaced. Consider if you need to fully replace your fence or if a repair will be enough. Vinyl, chain link, wood, and decorative metal fences and often be repaired in sections.
Wood 
Since wood is an organic material, it does need annual maintenance. We recommend annual staining in a color to coordinate with the house. Well-maintained wood fences have a lifespan between 10 and 20 years.
Vinyl
Maintenance for vinyl fences is low, requiring only the occasional pressure washing. It cannot be damaged by termites, rot, fungus, or fire and you will probably never have to replace it.
Aluminum
Aluminum fences are low maintenance and do not corrode; however, they may not hold up in climates with extreme snow, wind, rain, and hail. A simple hose down should be enough to keep your aluminum fence clean and in good shape.
Chain Link
Chain link fences can rust if not treated with a rust-resistant coating once a year. We recommend not climbing on a chain link fence as this can bend support posts and pull chain link away from the bars.
Bamboo
Bamboo fences require regular staining and sealing, or they may have a shorter lifespan than most fence types. A well-maintained bamboo fence can last 15-20 years, while an untreated bamboo fence may only last 2-7 years.
Brick 
Brick fences last forever and require very little maintenance. We recommend simply inspecting the masonry regularly and keeping your brick fence clean and free of pesky plant growth.
Installing a Fence to Improve Home Value
We hope this comprehensive guide to everything from white picket fences to bamboo fences has been helpful. It's our sincere wish that you improve your home's real estate value with a fence that attracts lots of home buyers to your property.
We also touched on the importance of working with a professional when installing a fence. Whether you're installing the front yard or backyard, professional installation can be as important as the style and materials used when it comes to your ROI. Reach out to us at Chesapeake Fence today and let's work together to maximize your home value with a new fence.