What Materials Are Best for a Security Fence?
Did you know that only 50 percent of American homes have fences? In addition, most of those homes only have backyard fences that don't extend to the front yard. But, is a fence around your house really that important? Installing a security fence around your home is more than just a matter of aesthetics. Home security can be enhanced with the right fence. However, with so many different fence materials on the market today, it can be tricky to determine the right one for your needs.
Why Might You Need a Fence for Security at Your Home?
Based on the FBI's statistics, home security is more important than ever. Every 15 seconds, a home burglary occurs in the United States. This amounts to around 4,800 burglaries every day. Most burglaries happen when someone has left the house. During these times, someone is the most vulnerable, and you need to be the most careful. Whether it's a property left empty for a few days or a weekend at home, you should never leave your door unlocked. In addition, if you can spend a few extra dollars on a security fence, you can improve your chances of protecting your home and reap other benefits.
Proactive Security
Having a security fence at your home will most likely save you time, effort, and money. A good fence is an excellent deterrent, and if you can prevent a burglary, you'll avoid the pain, hassle, and possible cost of a break-in.
Increased Feelings of Safety
Property crime makes up 83 percent of all crimes in the United States. Many homeowners also find that a fence provides a feeling of safety and security. You can feel safer in your own home when you have a fence. Not only will you have a physical barrier between you and the outside world, but you'll feel more confident in protecting your possessions.
Improved Privacy
You'll also have more privacy around your home. No more worrying about people looking in your windows to see what is going on inside. Some fences are even high enough to provide a bit of seclusion, keeping the neighbors and their kids out of your yard.
Real Estate Values
Having a fence in front of your home can also improve the perception prospective home buyers have of your property. When you look at a house that, on average, costs around 200,000 dollars, a properly landscaped fence can add 40,000 dollars to the selling price. The average cost of a fence is 2700 dollars. That means a well-maintained fence can give a significant ROI.
One of the things that buyers like most about a house is yard space. Fences can also be an added selling point, as they can improve the property's value.
Exterior Design Flexibility
Perhaps the best reason to invest in a property fence is that fences are more versatile than you might think. Their use in landscaping is not limited to protection. They can also be used to increase the appeal of the landscape and add a touch of color. In fact, many people choose to have their entire yard enclosed in one big fence.
Cost-Effective Home Security
If you're looking for a good value for your money, you can't go wrong with a fence. Fences are affordable and provide a variety of benefits. While property fences aren't going to guarantee your safety 100 percent of the time, they can significantly improve your home security.
Qualities of a Security Fence
There are a few things to keep in mind when buying a security fence. These factors will help ensure the security of your home.
Height
One thing you'll want to consider is the height of the fence. If you have a small yard, you may want to consider going with a low fence.
However, it can be hard to keep an eye on children or smaller pets when a fence is too low.
If you are setting up a fence around your entire yard, you will want a taller fence. A taller fence will provide more protection against intruders and keep your yard more private.
Secured Top and Bottom
The top and bottom of your fence are the most vulnerable points to be attacked. That is why you want to make sure that your fence is secured at the top and bottom to escape or for climbing in. If you live in an area that gets a lot of wind, you will want to secure the bottom of the fence to keep it in place.
Surrounds the Entire Perimeter
Fences are most effective when they surround the entire perimeter of your property. If any parts of your fence aren't secured, there is a good chance that intruders will make it as far, and then it won't be long before they make their way inside your property.
See-Through
Another essential feature of a security fence is that it is see-through. Often, burglars will scope out a house before doing anything, and a see-through fence will allow you to see them as soon as they approach your home. It will also help eliminate potential hiding spots for criminals.
Non-Invasive
The last thing you want is your security fence to be a nuisance. If you have children who play on your front lawn, you may want to consider a fence that is a little lower so they can see over the top. It is also a good idea to avoid any gates or bars that could be dangerous in case of falling.
Challenging to Cut or Bend
You also want to consider the material of your fence. It should be tough to cut or bend your fence. If a burglar can cut through your fence in a short amount of time, they will likely be able to make it into your yard with ease. However, if your fence is made out of strong material, it will be much more difficult for a burglar to get in.
No Easy Entry Points or Bypass
Finally, you need to look for fences that have no easy entry points or bypass. If a burglar is able to get through your fence with ease, they may not even pay attention to your other security measures. However, if they are forced to find another way into your yard, they are going to be much more likely to give up.
What Height Is Best for a Security Fence?
The question of what height is best for a security fence is one of the most commonly asked questions. When choosing a fence height, there are a few things you will want to consider.
Zoning Restrictions
The first thing you need to do is make sure that your fencing option is not conflicting with your local zoning laws. These laws state that your fence must be a certain height depending on the location of your home and the distance from the road.
Minimum Height
In general, most recommendations state that a security fence should be a minimum of six feet tall. If zoning restrictions prevent this, you should consider barbed wire or spikes at the top of your fence to make it difficult for criminals to go over your fence.
What Materials Are Best for a Security Fence?
Your choice of material will also affect the price and strength of the fence.
While it is tempting to go for materials that are least expensive, this is not the best route to take. The materials you choose will determine the durability and strength of your fence.
Wood: A wood fence can be constructed out of a variety of different woods. These include redwood, cedar, pine, and mahogany. While the price of these woods may vary, it is still going to be much more expensive than other materials. However, wood fences are not the best choice for security. These fences are easy to break through.
Chain Link: One of the most common materials for security fences is chain link. This material is cheap and relatively easy to install. Chain link fences are made by interlinking metal bars. These are then galvanized to resist corrosion and give the fence extra strength. While the metal links can be cut, it is not easy to do this. As such, it is one of the best materials for a fence.
Brick: Brick fences are not very common, but they are still very useful. The material may be a bit more expensive than other materials, but it is also very durable. Since the material is solid and is unlikely to be moved aside, it is one of the best choices for a security fence.
Welded Wire Steel Fence: Welded wire steel fence is very similar to chain link fence in terms of strength, durability, and cost. However, it offers an additional benefit since it is not as obvious as a chain-link fence. As such, it can help you maintain your privacy.
Aluminum: Aluminum is a very light material, but it is also very strong. As such, this is a very good material for a security fence. It is also a very versatile material, so you may be able to get creative with your designs. However, it is also important to remember that this material is not as strong as steel.
Vinyl: Vinyl fencing is one of the cheapest options for a security fence. However, it is also one of the weakest. As such, it is not a good choice if you want to protect your property.
A Combination of Materials: While you may have an idea of what material you want to use, you should also consider making your fence a combination of materials. This gives you the best of both worlds and adds to the aesthetic appeal of the fence. For example, a combination of chain link and wood may be an excellent choice for your home.
What Features Should a Security Fence Have?
There are a few features you can add to your security fence that can help increase your safety. If you need enhanced security, it's essential to check these out.
Access Control
In addition to the above features, you will also want to consider adding secure gates to the fence. This can make it easy for you to enter and exit the property, but it will also add an extra layer of security to the fence.
Double Row
You can also create a double row of fences. This will make it harder for intruders to get past the fence.
Reflexive Lighting
You can also use lighting at the top of the fence. This will make it difficult for intruders to hide using the cover of darkness.
Motion Sensors
Some fences can have motion sensors added. This will help you know when someone is trying to get past the fence.
Security Locks
Some fences will come with a built-in security lock. This can provide an extra layer of security to your property, and it is also very convenient.
Barbed Wire or Spikes
Adding barbed wire or spikes to the top of your fence can make it difficult for criminals to climb over. If this is something you want, talk to a professional about how to implement a feature that provides security but doesn't reduce aesthetic appeal.
Entrenched Foundation
Adding an entrenched foundation to the fence can make it much harder to get in. Most security fences are typically entrenched using concrete.
Security Cameras
Cameras can be very effective for monitoring the area around your fence. This can be an excellent option for keeping intruders out or for deterring them from trying to break in in the first place.
What Styles of Security Fences Are Most Popular?
There are a lot of different types of fences that you can choose from. This raises the question of which fence is the best option. Naturally, it depends on your personal preferences, but some fences tend to be a better choice than others, and they are more popular overall.
Chain Link
One of the most popular types of security fences is a chain link fence. These are generally very affordable, and they are also very easy to install. They are typically made with galvanized steel, which allows them to stand up to the elements and keep looking great for many years.
Wood
Another popular option is a wood fence. These are also very easy to install, and they can provide a long-lasting barrier to anyone who is trying to get in. While they do require some upkeep, they can last for a long time, and they tend to look great in most locations.
Vinyl
Vinyl is another popular option. This is an excellent choice for homeowners interested in a rigid type of fencing. These types of fences tend to be very durable, they are very easy to install, and they can also look very nice.
Other Considerations
As you think about the type of security fence you want, there are a few other things you will want to consider. Every detail will help make your fence that much stronger.
Exterior Design
The beautiful exterior design is something that can impact you as you create a fence around your home. You want to find something that complements your home's style. However, you also want to make sure that it adds to the appeal of your home.
Materials
As we mentioned earlier, there are many different materials you can use to create your fence. If you are looking for the most secure fence, you will likely want to use chain link or metal.
If you are looking for an aesthetic fence, you will want to choose wood or vinyl. All of these materials are very popular options, and they can all be effective in stopping an intruder.
Installation
One thing you will want to keep in mind is the ease of installation. You may have to consider hiring a professional to help with installing a fence around your home. This is especially true if you are using a fence made of hard materials, such as metal or wood.
How to Determine the Best Type of Security Fence for Your Property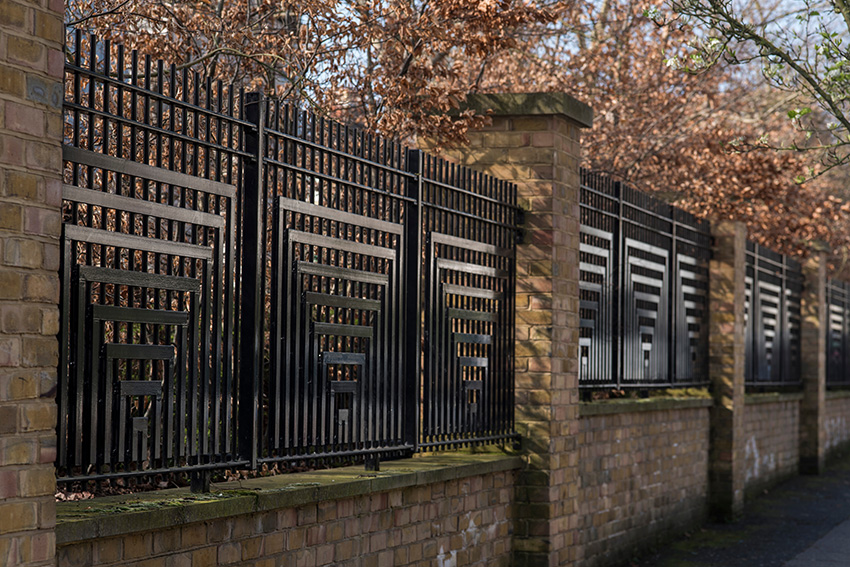 As you start to consider how to build a security fence on your property, you will want to make sure that you are working with a quality fence company. This will allow you to have a fence that is secure and that is built to last.
Understand Your Needs
The first step before even considering a fence you will want to take the time to understand your needs. What do you want your fence to accomplish? Do you want to keep certain people out of your yard, or are you looking for a fence that will prevent animals from entering?
Do you want something that is aesthetically pleasing, or do you just want something that is functional? All of these things will help you in the process of planning your fence.
Determine Your Budget
Once you understand your needs, the next step is to decide how much you are willing to spend. This will help you to determine the type of fence you can afford. You will want to talk to fence companies about the price of your options. This will help you to determine the type of fence you can afford.
Consider Materials
The materials a fence is made from can impact its cost. You will want to look at the various materials available, and you will want to determine which ones you want for your property.
Some of the materials you will want to consider include chain link, vinyl, wood, and wrought iron.
Determine Your Style
You want your fence to be functional; however, it also shouldn't take away from the aesthetic appeal of your home. Think about what style of fence you want for your property. This may include picket fences, privacy fences, wood fences, chain link fences, wrought iron fences, and more.
Check With Your HOA
If you live in a community with an HOA, it's important to check any rules you may need to follow before installing a fence. This will ensure that your fence meets any requirements.
If you are planning to install a fence that is on the fence height requirement, you will want to make sure it is in compliance with the rules.
Find Your Property Line
Before you install a fence, you will want to determine where your property line is. You want to make sure that you are installing your fence on your property and not over the line or on the neighbor's property. If a fence is built on your neighbor's property, they can ask for it to get taken down.
Choose a Fence Company
After you have determined your budget and the materials that you want for your fence, it's time to go out and get a quote from a reputable fence company. You will want to talk to several companies so that you can compare the quotes. If possible, you will want to compare the price of labor, too. This will give you a better understanding of the overall price of each option. Some companies will charge you a fixed rate per foot, while others will charge you hourly.
Remember, though; you get what you pay for. Don't skimp on cost for a fence that's not built well.
Protect Your Home With a Security Fence
The right security fence can help keep your home protected. There are many factors to consider as you choose one for your home. However, if you're looking for the best company for an installed fence, look no further than Chesapeake Fence and Awning Co. Request a free estimate for your project today.