New Fence Install or Repair Near Me
Adding a fence to your property increases its value, resulting in a higher price compared to a property that lacks a fence. Are you looking to install a new fence on your property? You might be considering chain link fences, wood, wrought iron, or vinyl fence. Installing or repairing a fence yourself can be time-consuming and challenging. That's why it is important to find the right contractor who understands all the latest fencing trends and processes.
If you're planning to sell your home or improve its overall aesthetics, a good-looking fence is the way to go. In this article, we tell you everything you need to know about choosing the best fence material for your home. We'll also give useful tips for fence installation and maintenance. Read on to discover everything you need to know about fence installation. Find out how to install a new fence or see if you can repair your existing one.
How Do I Find a Fencing Company Near Me?
To find the best fencing contractors start by researching local companies online. It's also worth delving into review sites and reading what other customers have said about their services. It's a good idea to ask for recommendations from friends and family when looking for a trustworthy company such as Chesapeake Fence and Awning Co.. We go into more detail later on in this article about what to look for when selecting a fencing company.
What's the Best Way to Find a Fencing Company When You're New in Town?
The best way to find a fencing company when you're new in town is to ask around. Talk to your neighbors, family, and friends for referrals or tips on the best companies in the area. See if any of them have experience with local fence installation companies. Ask whether they would recommend their services. If you can't get any personal recommendations, search online for local fencing company reviews and ratings.
Online business directories are also useful resources for finding quality local businesses that offer fencing services. Make sure to check out customer feedback or testimonials so that you can get an idea of the quality of service they provide before deciding on which contractor to hire. Also, don't be afraid to contact potential contractors directly and ask questions; this will help ensure that you make an informed decision when selecting your fence installer or repair specialist.
What Is the Best Material for My Fence?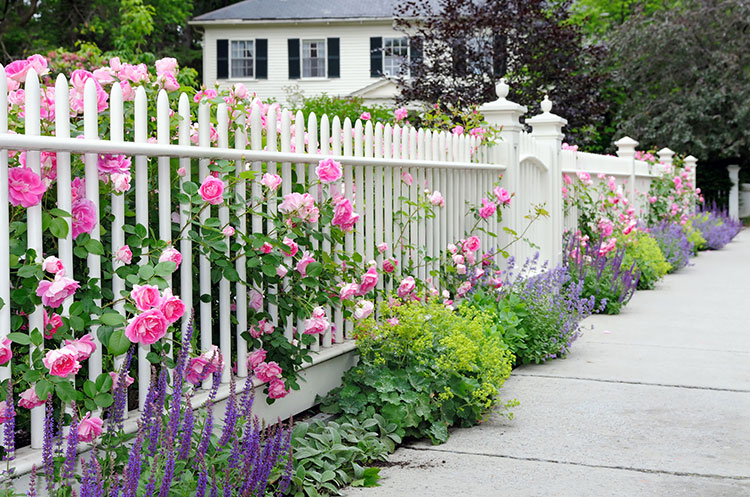 There's no shortage of different types of fences on the market. When you're trying to figure out the best material for your fence, there are various factors you'll want to consider. The main ones are security, maintenance requirements, and cost.
Wood Fences
Wood is a classic and traditional material for fencing, and it's still one of the most popular options today. Wood is strong, durable, and relatively inexpensive compared to other materials. It can also be stained or painted to match your home's exterior. However, wood requires regular maintenance to ensure that its appearance doesn't fade over time. Additionally, wood won't provide as much security or privacy compared to other fence materials, such as metal or vinyl.
Vinyl Fences
Vinyl is another popular option for fencing material, and it's becoming increasingly popular due to its low maintenance requirements. It's also resistant to corrosion and won't require painting or staining as wood does. Vinyl fences are available in a variety of colors and styles, making them a great option for households that want to customize their fencing.
Metal Fences
Metal fences are the most secure option, as they provide superior strength and durability compared to other materials. They're also rust-resistant and require very minimal upkeep over time. Metal fences can be expensive, however, they are also a long-term investment. It's important to consider your budget when deciding which type of fencing material to choose.
Chain Link Fences
Chain link fences are a great option if you're looking for an affordable and low-maintenance fencing solution. They provide decent security and privacy, and they can be purchased in various heights and colors to fit your needs.
Composite Fences
Another option to consider would be composite materials that combine both wood fibers with plastic resins for a product that lasts longer than natural materials while also requiring less maintenance. Composite fencing is typically more expensive than other materials, but it's also very low maintenance and provides excellent privacy. It can also be painted or stained to match your home's exterior.
How Long Does Fence Installation Take?
The length of time it takes to install a fence depends on the type of material you choose and the complexity of the project. Generally, vinyl fencing can take about one to two days to install, while wood and composite fences may require up to three or four days. Metal fences typically take longer as they must be assembled piece by piece before installation can begin.
Additionally, terrain conditions like distance from power lines or other impediments will affect how long it takes to install your fence. If you're replacing your fence, you will probably already have each post hole already in place. If this is the case, it will be quicker than starting from scratch.
Should I Install a Fence Myself?
If you have some experience with home DIY projects, a fence installation can be a good project to take on yourself. However, if you are not comfortable or familiar with the process, it is best to hire a professional for a more secure and long-lasting fence installation. Professionals will also be able to provide additional support should any issues arise during the installation process.
When to Get Professional Help
It is best to hire a professional for fence installation and maintenance as they will be able to provide a more secure and long-lasting result. Additionally, professionals are better equipped to identify any potential issues that may arise during the installation process or while dealing with maintenance tasks. Having access to professional help for your fencing project will ensure the job is done right the first time, saving you time and money in the long run.
What Makes for a Quality Fencing Company?
When choosing a fencing company to complete your project, there are several important things you should look for. It's worth shopping around before committing to a company and seeing how they each perform.
Here's our list of what you should be looking for:
Do they have experienced and knowledgeable staff
Do they use high-quality materials and tools?
Do they offer professional installation?
Do they offer accurate estimates for the cost of project completion?
Do they have a track record of timely completion of projects?
Are they good at communicating with customers throughout the process?
Have they got flexible payment options?
Is there clear warranty information regarding the services and materials used
Are they willing to answer any questions from customers promptly?
Do they have a track record of reliable customer service after the sale?
How Long Should I Expect My Fence to Last?
The longevity of your fence depends on the material used to build it. Generally, a wood fence can last between 15-20 years, while a vinyl fence should last around 25-30 years. Metal fences typically have an even longer lifespan of 20-40 years. The terrain conditions and maintenance of the fencing will also play an important role in how long your fence lasts. When properly maintained, you can expect even longer lifespans for your fencing investment.
The Benefits of Chain Link Fences
Chain link fences are an excellent choice for those looking for an affordable and low-maintenance fencing solution. These fences are quick to install, cost-effective, and offer a variety of benefits to property owners. Structurally, chain link fences do not rot or decay like wood or other materials, making them more durable and long-lasting in most climates. They also require very little maintenance, making them a great option for those who don't want to have to regularly maintain their fence. Additionally, chain link fences offer many security benefits as they allow full visibility of the property behind the fence. This can help deter would-be intruders and make your home safer.
Overall, chain link fences are a great option for many homeowners looking for an affordable and long-lasting fence solution.
Looking for a Reliable Fencing Company Near You?
Chain link fences are an excellent choice for those looking for a low-maintenance, affordable, and long-lasting fencing solution. Not only do they provide visibility to the property behind them, but also require minimal maintenance throughout their lifespan.
If you're in the market for reliable chain link fence installation or repair services, look no further than Chesapeake Fence and Awning Co! Our team of professional installers has years of experience installing high-quality fences that will last for years to come. Contact us today to get started with your free estimate!